Delivery time
Delivery times
Information on calculating the delivery time within Germany:

Delivery times : 1 – 3 Working days*
If the order situation allows, we are of course happy to be able to deliver your order earlier.
Shipping on the same day if the order is paid by 3 p.m.
You will receive an automatic dispatch confirmation by email as soon as we have completed and dispatched your shipment.
If the postman does not meet the recipient with the parcel in person, the parcel can be picked up at the responsible post office at the following times.
DHL Paket branch or parcel shop: 7 Working days
DHL Paket Packstation (direct shipments): 7 Calendar days
DHL Paket Packstation (notified shipments): 9 Calendar days
Information on delivery times outside of Germany:
In the table below you will find the delivery times for shipping to other countries, which must be added to the delivery times specified for the respective article.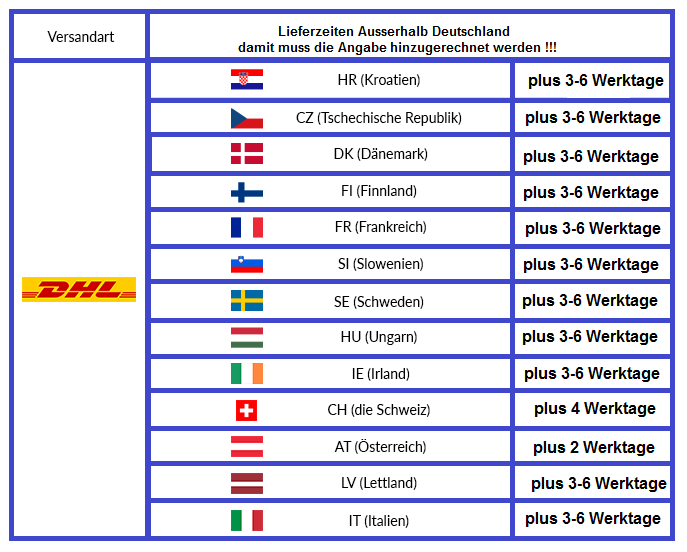 *The deadline for delivery begins on the day after the conclusion of the contract and ends with the expiry of the last day of the deadline. If the last day of the period falls on a Sunday or a public holiday recognized by the state at the place of delivery, the next working day takes the place of such a day. If you order several items from us as part of an order, for which different delivery times apply, we will send the goods in one shipment, unless we have agreed otherwise with you. In this case, the delivery time that applies to the item in your order with the longest delivery time applies to the consignment.
Packaging Act (VerpackG)
In accordance with Section 3, Paragraph 14 of the Packaging Act, we, as the "manufacturer", are obliged to include our packaging that is subject to system participation in a dual system. The dual systems ensure that all sales packaging materials we put into circulation are taken back and recycled across the board. For our transport packaging, we ensure that it is properly taken back and recycled in accordance with the packaging regulations.
File